All About Me Storybook

All About Me is an application offering picture and text support to individuals learning their personal information. Twelve icons representing categories lead to statements that can be individualized for the user. In addition, personal photos can be taken with a camera ready Apple device to provide visual support. Typically developing young children learning their personal information for the first time and those with developmental delays such as language impairment, ADHD, auditory processing disorder, PDD-NOS and autism will benefit from this interactive application. Also, it can be used for the purpose of working with patients relearning personal information, including patients with TBI. Parents, teachers, SLP's and other suport professionals will appreciate the user friendly design.

Great for fun or a wonderful teaching tool
with visual, text and audio support
I recommend All About Me to the parents of my students who are learning their personal information. It's a great way to practice the things they have to know in kindergarten, like their address and phone number.

Christy Sanders, Kindergarten Teacher
Austell, GA
Ideas for using All About Me
Instead of adding the words, just put lines in the text boxes you want to practice. Then when you select a page, the student has to recall the information from memory.
Great app to for parents to download on their iPhones to teach their children the personal information that they need to know for kindergarten.
For children easily overwhelmed with too much visual input at once, turn the pages on and off in the settings section. You can easily select which and how many pages of information you want to review.
Personal Information Fields Include: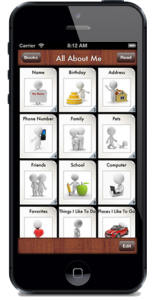 Name
Birthday
Home Address
Telephone Number
Family Members
Pets
School
Friends
Favorites
Things I Like
Places I Go
Computer Favorites
Please visit Allaboutmestorybook.com to learn more about this app!
More Identification Apps
Keep in Touch for News & Promo Codes
Comment, Request & Bug Report