i Get… My Community Vocabulary Photo Books

i Get… My Community offers picture, audio and text support to individuals learning about people in their community. Twelve icons are preprogrammed with real-life photos and titles of common community helpers, and twenty one icons can be personalized by the user. Text statements and audio recording can be individualized for each picture allowing the app to be used for a varietyof purposes, including receptive identification, expressive labeling and providing the functions of community people.

Ideas for using i Get… My School
•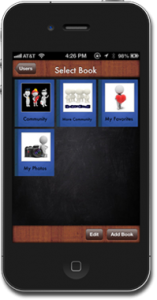 Use the main icon page to identify functions of community helpers. For example, when asked "Who do you see when you feel sick?" the child can touch the doctor icon. The child can see his/her progress by using the checkmark feature.
• Use the text box to label where you find the community helpers. For example, "The cashier works in a store."
• i Get… My Community is a great way to screen and monitor labeling of community helpers for young typically developing children or to support IEP goals and objectives for children with special needs.
• Target executive functioning skills by using the app to problem solve for a variety of situations that involve support by community helpers. What do you do if you get lost in a city? How do you mail a letter? What do you do if you need ketchup while eating at a restaurant?
• Create sequences of activities involving the community helpers. For example, list the steps of going to the doctor or getting a haircut.
Community People included:

Letter Carrier ♦ Police Officer ♦ Fire Fighters ♦ Sitter ♦ Doctor ♦ Dentist ♦ Hair Stylist ♦ Wait Staff ♦ Cashier ♦ Paramedic ♦ Sitter ♦ Lifeguard
More Identification Apps
Keep in Touch for News & Promo Codes
Comment, Request & Bug Report